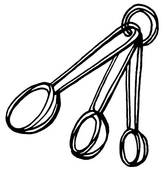 ---
The Mother Sauces
Béchamel, the classic white sauce, was named after its inventor, Louis XIV's steward Louis de Béchamel. The king of all sauces, it is often referred to as a cream sauce because of its appearance and is probably used most frequently in all types of dishes. Made by stirring milk into a butter-flour roux, the thickness of the sauce depends on the proportion of flour and butter to milk. The proportions for a thin sauce would be 1 tablespoon each of butter and flour per 1 cup of milk; a medium sauce would use 2 tablespoons each of butter and flour; a thick sauce, 3 tablespoons each.
Velouté, is a stock-based white sauce. It can be made from chicken, veal or fish stock. Enrichments such as egg yolks or cream are sometimes also added.
Espagnole, or Brown Sauce, is traditionally made of a rich meat stock, a mirepoix of browned vegetables (most often a mixture of diced onion, carrots and celery), a nicely browned roux, herbs and sometimes tomato paste.
Hollandaise and Mayonnaise are two sauces that are made with an emulsion of egg yolks and fat. Hollandaise is made with butter, egg yolks and lemon juice, usually in a double boiler to prevent overheating, and served warm. It is generally used to embellish vegetables, fish and egg dishes, such as the classic Eggs Benedict. Mayonnaise is a thick, creamy dressing that's an emulsion of vegetable oil, egg yolks, lemon juice or vinegar and seasonings. It is widely used as a spread, a dressing and as a sauce. It's also used as the base for such mixtures as Tartar Sauce, Thousand Island Dressing, Aïoli, and Remoulade.
Vinagrette is a sauce made of a simple blend of oil, vinegar, salt and pepper (usually 3 parts oil to 1 part vinegar). More elaborate variations can include any combination of spices, herbs, shallots, onions, mustard, etc. It is generally used to dress salad greens and other cold vegetable, meat or fish dishes.
Tomato sauce is made by skinning and seeding tomatoes, simmering them for 10 minutes, then processing them in a food processor. Herbs and spices can be added, but your final recipe will determine what to use.